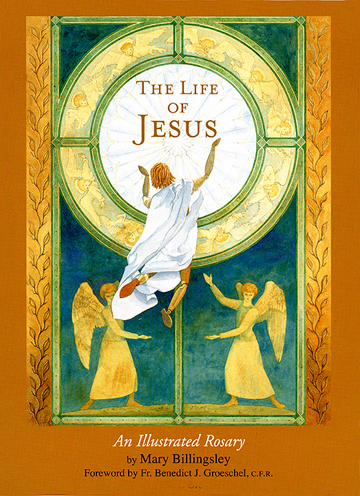 If you wish to order THE LIFE OF JESUS, An Illustrated Rosary, please contact: Eerdmans Books tel. 800-253-7521
or, www.eerdmans.com
Since 1990, Mary Billingsley has been working on a book for people of all ages., THE LIFE OF JESUS: AN ILLUSTRATED ROSARY. Published by Eerdmans Books, it is due to come out in February, 2010. Fr. Benedict J. Groeschel, of the Franciscan Friers of the Renewal, thoughtfully provided the the following Foreword:
This exquisitely beautiful book by Mary Billingsley presents the rosary for children, but I might add — for children of all ages.
When I first saw a few of the paintings, I wondered if it was wise to portray Christ, Our Lady, and the other participants in the drama of the rosary as puppet or manikin figures. But the idea very much grew on me and, as I now see the final outcome of Mary's work, I'm completely captivated. This is a rosary book for young and old.
Quite beyond the fact that children will find it attractive and will be able to deal with the figures of the rosary as they are presented, there is another far deeper meaning to all of this and this is where the older grown up children like us may be able to learn something too.
What is it we can learn? That our world looks to the transcendent and infinite God much like the world of puppets looks to human beings. We take ourselves terribly seriously as human beings. But remember that the Incarnate Word had to empty Himself, taking on the form of a slave in order to save us.
Mary's sensitive presentation of the rosary in these figures that are meant for children provides a good deal of visual meditation for anyone. These figures are filled with beauty, gentleness, pathos, and hope. Often when I'm preaching at an important event I preach to the children who are there and let the adults listen. You can often say to children in very simple ways what adults need to hear but can understand better when presented in the direct way that you speak to children.
The use of the words of the Bible is very helpful and important. I would suggest to any adult looking at these pictures to read them through a couple of times and you will be changed in some of your meditations and thoughts. And isn't this what prayer is about? It is meant to change us and in that respect Mary has made a very real contribution to Catholic spiritual art which is intended to raise the heart and mind to God. If I may humbly say so, I think Our Blessed Lady, who almost always appeared to children, will be pleased with this work of art in her honor.